We hope that you're reading this because you either are considering working at RGU and wish to learn more about the area, or alternatively you have recently moved to the city to begin a new job and want to find out more about the kinds of things you can do in and around Aberdeen.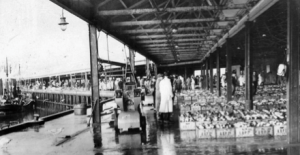 One of the things you have to do, if you are prepared to get up early (not quite at the crack of dawn but pretty near it), is visit one of the local fish markets. While not as busy as in its heyday, (see picture here*) when it wasn't unusual for the huge floor area at Aberdeen Fish Market to fill up with boxes three times each day as the trawlers were unloaded of their cargo, there are still a lot of fish landed. Today, it's less busy in Aberdeen and Peterhead, 35 miles to the north of Aberdeen, has become the UK's largest port for landings of pelagic (mackerel and herring) and white fish. It is a fascinating sight to see the rows and rows of the denizens of the deep, ready for auction and shipment throughout the country.
If you are a more conventional sort of fisherman or woman, the kind who likes to cast a fly or some other form of bait into inland waters or rivers, then the north of Scotland (actually most of Scotland to be fair) is a pretty good place to live.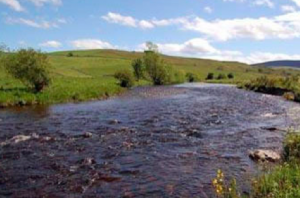 There are a number of fisheries in the area, including Ythanbank near Ellon (the river Ythan is good for brown trout and runs of sea trout) and Artloch and Moffat near Huntly, plus, of course, the world-famous salmon rivers of the Spey and Tay are only a couple of hours drive from Aberdeen. However, if you'd rather have a shorter journey to indulge your piscatorial urges, the upper reaches Don (one of Aberdeen's two rivers – the docks and fish harbour are on the Dee) is not just good for salmon but very good indeed for brown trout. You can find a lot more general information about angling in Scotland here.
And finally, if you haven't the patience to catch fish, you can certainly enjoy eating them here. Given the huge tonnage landed locally, the quality is exceptionally high. In fact, 'The Bay' in Stonehaven, just 15 miles south of Aberdeen, won the UK Takeaway Chip Shop of the Year a few years ago, and as this link shows, there are lots of other great places to enjoy fresh fish and chips locally.
* There is a great website that has lots of fascinating information about the Aberdeen Fish Harbour and its history.