There is nothing like a good old stereotype, largely because quite a few stereotypes are, to a greater or lesser extent, based on fact. This applies equally to towns and cities as well as to people and animals.
What comes to mind when you think of Aberdeen? Well, for many people, it's the oil industry. In days gone by, many would perhaps have thought of fishing, which is still an important industry in the north-east today. In fact, to continue the stereotype theme, a favourite chant of opposition supporters at Pittodrie, Aberdeen FC's ground, is "you only sing when you're fishing", which is in turn a play on the more common football taunt, "you only sing when you're winning" (something Aberdeen are, we're pleased to say, doing a lot just now). Clearly, stereotypes still apply to this most historic of industries (of which more in our next blog).
Away from oil and fish, a few others might associate Aberdeen with the breed of cattle that takes 50% of its name from the city. The Aberdeen Angus cattle breed is a very old one, having been recorded in Scotland since at least the 16th century.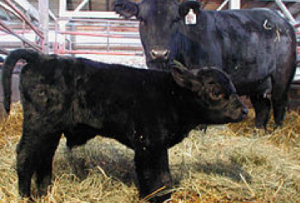 In previous centuries, the cattle had different, local names, including 'doddies' or 'hummlies'. They are (as cattle go – especially as calves – see the picture!) attractive beasts, black in colour and, notably, without horns. If you look up 'doddy' on Google today, it will tell you that the word means a cow, especially an Aberdeen Angus, with no horns. Interestingly, if you come to live and work with us here at RGU in Aberdeen, you'll find that it's not uncommon for men whose name is George to be called 'Doddy' or 'Dod' – although perhaps the best known, current example of this is the former Scottish rugby international, Doddy Weir, who was actually born in Edinburgh.
The popularity of Aberdeen Angus grew in the UK in the middle of the 20th century and they can now be found all over the world. For many visitors to the UK, or at least those who have spent time in London, their name is synonymous with a budget steak restaurant chain, however, to continue the football connection, one of Aberdeen FC's (several) mascots, and the longest-standing one by some way, is Angus the Bull, who, ironically, sports two quite impressive horns. Clearly, stereotypes persist even in cattle!