Many, many years ago, a friend was talking to an HR person at one of Scotland's councils, just prior to the last restructure of local government. Clearly, a lot of people were going to be moving from their present employer to a new council and he asked the HR person what he most wanted from the restructure. "A view as good as this one," was the answer.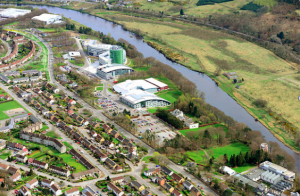 The view (from an office about forty miles south of Aberdeen as it happens) was indeed splendid. At RGU we're fortunate that most people at the university work on the stunning Garthdee campus, on the edge of the river Dee and with lovely views over the country to the west of the city. Over the last decade there has been more than £100 million invested in new buildings and facilities and there will be a further investment of over £120 million in the next ten years that will see all of the University's academic activities located at Garthdee.
Work-life balance is very important to us as an employer. That's one of the reasons why on this blog page we strive to give you as much information about the different things that you can see, experience, taste, discover and enjoy in Aberdeen and the north-east of Scotland.
Of course we want everyone to work hard – a good work-life balance policy is not a slackers' charter – but we recognise that there is far more to life than work. There are some though who believe that you can't get to the top without excessively hard graft. We know that's necessary from time to time, but it was interesting to see last year that Robert Half, one of the biggest recruitment consultancies in the world, published the results of an investigation into this topic. Their results showed that the principal reason people look for new opportunities nowadays is because they want a better work-life balance. This is a considerable change from only five years ago, when an earlier study suggested that nearly one third of HR directors believed that higher pay was the main reason people sought a new job. Today, work-life balance is much more important. If that's a concern for you as you contemplate a new job, then be assured that at RGU we seek to maintain the best work-life balance for all our employees. And, as you can see here, we have a lot of natural advantages – beginning with the view!
Julie Skinner, Resourcing & Benefit Specialist
Email: j.skinner@rgu.ac.uk