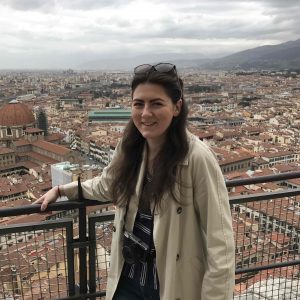 If you recall, a few weeks ago, we ran an interview with Cerys Russell,who had moved here from Cornwall.  We mentioned then that there are RGU staff from the length and breadth of the UK, including Shetland.  Meet Sophie!
Name: Sophie Kelman
Job Title: Inclusion Administrator
Department: Student Life
What attracted you to come to work at RGU?
The reputation of the University, I'd read various articles praising RGU for being a forward-thinking innovative workplace.  The opportunities that are offered to employees also attracted, it seemed like a very employee-centered workplace.
Describe working at RGU in three words.
Developing,
Enjoyable,
Engaging
Tell us something that has surprised you about working at RGU.
That everyone matters regardless of your job role.
Describe living in North East of Scotland in three words.
I spent the majority of my childhood in Shetland, but moved down to Aberdeen to study at RGU and have been here ever since.  I would describe the North East as; picturesque, refreshing (you have the best of both worlds in regards to being able to get out the city and into the countryside quickly) amazing beaches!
What are your favourite leisure/non-work activities and how well are they catered for in and around Aberdeen?
I have a 9 month old puppy, so I tend to spend my weekends running around local beaches or trekking in the woods! I'm also slowing re-decorating my flat (this takes up so much time!)  I do also enjoy my fitness classes during the week also.
What is your favourite place to go out for a meal in the North East and why?
I have a few favourites;
Wild Ginger – Indian
FoodStory – Vegan café good for breakfast, lunch and cake!
Poldino's, Rustico, Da Vinci – Italian's
Silver Darling – Seafood
What would you say to anyone who is contemplating a move to RGU to persuade them it's the right career move?
Do it! I feel I've made the right move, you won't regret it.