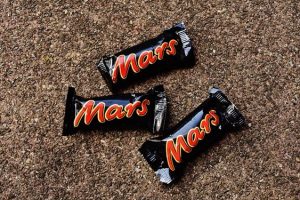 In 1995, the Daily Record newspaper ran a story about "Scotland's Craziest Takeaway" under the headline, "Mars Supper Please."   The story goes that in what was then The Haven Fish and Chip Bar in Stonehaven, cook Evelyne Balgowan was the first to cover a Mars bar in batter and deep-fry it after 15-year-old John Davie dared his friend Brian McDonald to eat one in 1992.  Apparently, both boys expected it to be vile, but Brian loved it and the rest, as they say, is history.
The Haven is now called The Carron Fish Bar and the "delicacy" that is the deep-fried Mars bar has a dedicated cult following. In fact, it's fame is international, even being featured on the US Jay Leno's Tonight show.
Nowadays, foodies from across the world are desperate to bite into batter-wrapped chocolate when they visit our shores. While many Scots still shiver at the thought of tasting one themselves, the delicacy has a committed cult following.
Many (most?) Scots shun the deep-fried Mars bar.  Aberdeenshire Council tried to have The Carron's banner about the bar removed to try to 'improve the look of the town' but this sparked a backlash by the community and the Council gave up.
Mars took active steps to disown the recipe in 2012, claiming it ran contrary to the company's efforts to promote healthy lifestyles (a tad hypocritical, given that Mars bars contain 6.5 teaspoons of sugar each – just half a teaspoon less than a can of Coke). Perhaps unsurprisingly, a bid for EU protected geographical status fell through that same year.
Like it or loathe it (or if you haven't tried it then it ought to be on your bucket list – no pun intended!), one thing you must know about the deep-fried Mars bar is that the best place to order and eat one is, surely, in the place that introduced it to the world – Stonehaven!
Julie Skinner, Resourcing and Benefits Specialist, RGU