We are, naturally, biased when it comes to telling the world just what a magic place Aberdeen is to live and work.  However, we can offer more than just our personal opinions: an Aberdeenshire man really does have a claim to be one of the earliest proponents of prestidigitation.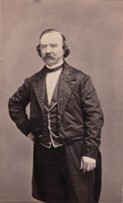 John Hendry Anderson was born near Torphins in Aberdeenshire.  Sadly orphaned at the age of 10, he joined a troupe of travelling entertainers and began practising magic at the age of 17.  His skill was such that he embarked on a three-year touring show and then in 1840 settled in London, performing for high society across the country.  His fame spread and he made visits to Europe and Russia, Canada, the USA, Australia and Hawaii.
It was said that Sir Walter Scott gave Anderson his sobriquet of "The Great Wizard of the North," and certainly he lived up to that description. He was one of the popularisers of the celebrated trick of pulling a rabbit a top-hat. Although the trick had existed before in various forms, Anderson was the first to perform this classic on stage. He placed a great emphasis on the importance of entertainment as much as the magic he skilfully performed.
His family life was somewhat complex, involving children born within and outside wedlock.  In 1862, he fell out with his oldest son (who, like his daughters, also became a magician) and the two never spoke again.
John Hendry Anderson died in 1874 and was buried in the Kirk of St Nicholas Churchyard in Aberdeen.  His grave fell into disrepair, but was restored by the great Harry Houdini, who had been born the same year Anderson died and who subsequently revered the north-east man as one of his great inspirations.
Julie Skinner, Resourcing and Benefits Specialist, RGU