We love our 60 second interviews.  They show the breadth and depth of thoughts, preferences, likes (and sometimes dislikes!) of the people who work at RGU.  From a fish and chips to not having a TV and from a genuine commitment for his work to a healthy (literally) interest in running to and from his home to the university, Bruce tells us why he loves life and work here at RGU and in Aberdeen…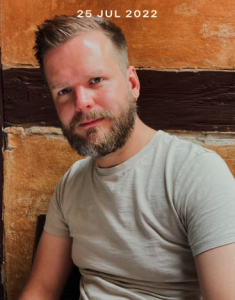 Name: Bruce Harper-McDonald
Job Title: Principal Lecturer for Student Recruitment and Widening Participation
What does your job at RGU involve? I am responsible for student recruitment and widening participation in the School of Nursing Midwifery and Paramedic Practice. This includes widening participation and outreach work. As well as this I am teaching and supporting students on both undergraduate and postgraduate programmes.
What attracted you to come to work at RGU?
I have always felt very passionate about widening participation and feel strongly that it is unacceptable in 2023 that the postcode in which you are born will impact on your health, wealth, education and healthy life years. I feel excited to work at RGU and help ensure we continue to attract and educate the future nursing workforce.
If you weren't doing this job, what, in an ideal world, would you like to do for a living?
This job! Coming into nursing was the best decision I have made in my career and being in a job where I can promote that profession is the ideal.
What's your favourite place in Aberdeen/Aberdeenshire?
Not sure – I love running so anywhere that you can run off road. The river beside the campus onto the railway line is my favourite at the moment and I am able to run home from here.
Best holiday you've had and why?
Any holiday I have been on has been the best. I am currently renovating/rebuilding a house so there is a holiday freeze at the moment.
Favourite TV show?
None I do not own a TV.
Favourite band/music?
Cher of course.
If you're going to a restaurant and could only have one thing to eat (one course), what would it be?
Fish and chips.
If you were in charge of the university for one day, what's the first thing you would do?
I am still learning my new post – so I have no idea how to answer that question.