When someone tells us that coming to work here is "the best decision I have made" and "everyone here is so friendly" then we are, naturally, rather pleased.  We don't tell anyone what we want them to say in these interviews, and of course, no-one has to do them, but it's still a real pleasure to find that we get so much right.  If you are contemplating a career move, then we'd be delighted to help you find out more about  RGU.  However, that's for another day: in the meantime, read what Amy – who, as the title above tells you, used to be a student here – thinks about her job and life in the NE of  Scotland.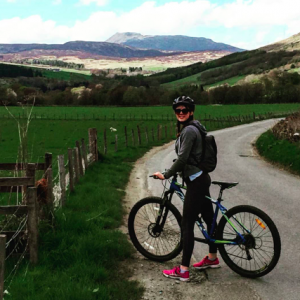 Name: Amy McNaughton
Job Title: Employability Officer
Department: Employability & Professional Enrichment Hub
What attracted you to come to work at RGU?
The opportunities available here- I wanted a fresh positive challenge and I knew this role would bring just that.
Describe working at RGU in three words
Positive,
Engaging,
Valued
Tell us something that has surprised you about working at RGU.
How big the campus is nowadays, I used to be a student here but so much has changed since then and it is even better now. Also, the gym is fantastic – great price and plenty of classes to attend.
Describe living in North East of Scotland in three words.
Castles,
Countryside
Cold!
What are your favourite leisure/non-work activities and how well are they catered for in and around Aberdeen?
Hiking up Munros, castles and wildlife and yes! I only need to drive for around 25 minutes from mine to be surrounded by nature and hills, it is great!
What is your favourite place to go out for a meal in the North East and why?
I have two favourites- Day time I love Foodstory based here in Aberdeen, I highly recommend this place, it is healthy and delicious!
My second favourite for evening time is Casa Salvatore in Ellon- I love Italian food and this place is just lovely!
What would you say to anyone who is contemplating a move to RGU to persuade them it's the right career move?
By letting them know it was the best decision I have made, everyone here is so friendly/welcoming and it is a positive environment to work in with so many opportunities to offer.