For the uninitiated, in the north-east of Scotland "Fit like?" is a general purpose expression which means, more or less, "hello, how are you?" It literally translates as "What like?" rather than an enquiry into one's state of health. That said, it does also work for that latter purpose, especially if you are one of the many people who come to Aberdeenshire not just to work (at RGU hopefully!) but because of the unrivalled walking and climbing opportunities within easy reach of the city. We'll deal with climbing in a later blog, but for those who like to stretch their limbs and either amble or move more purposefully, there are many great places to walk or stroll in the city, towns and countryside of this most beautiful part of the UK.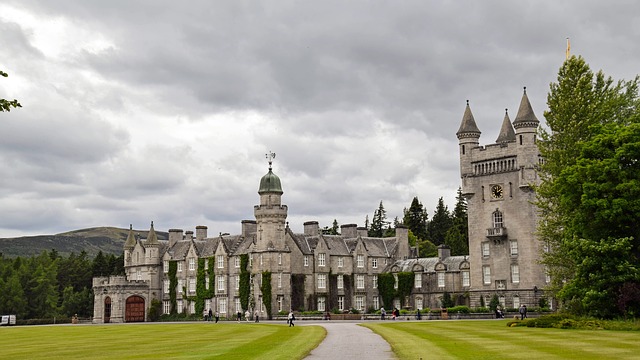 The Deeside Way – part of which can be seen on this video link – has come into being as a result of a partnership of local organisations (including Aberdeenshire Council, Aberdeen City Council, The Cairngorm's National Park, Scottish Natural Heritage, Scottish Enterprise Grampian and Sustrans). More specifically, it's based on an old, disused railway line that ran from Ballater (in Royal Deeside, close to the Queen's favourite summer retreat at Balmoral Castle – pictured here) to Aberdeen. The work has proceeded in stages, but now the path runs for 41 miles, offering lovely views as well as the chance to see much of the old railway infrastructure.
Although it's popular with walkers, the fact that it is pretty level (as you would expect of a railway line!), means that it's also generally suitable for cyclists and, in particular, family groups. It's also good for horses and many riders take the opportunity to enjoy their sport and see the superb views from a higher vantage point. There are also opportunities for keen hikers to explore historic drove roads that connect to the Deeside Way. Some of these drove roads have interesting names. For example, from Aboyne, you can take "The Fungle", although at 17km and with an ascent of 790m (taking many hours to traverse) this is a much more serious walk than the less onerous paths of the Deeside Way. Another interestingly named old drove road is the Firmounth, which runs from Glen Tanar to Hill of Cat.
As you can see from these links, whether you're a seasoned walker or just want a stroll with the family and the dog (or horse!), there are lots of splendid opportunities to get out and about in the North-East of Scotland.
Julie Skinner, Resourcing & Benefit Specialist
Email: j.skinner@rgu.ac.uk