What do you look for in a new job?  Well, obviously it's important that it's a job you want.  Them it helps if the work is exciting and your colleagues really care about what they do.  And of course, what really makes a difference is how friendly and welcoming everyone is…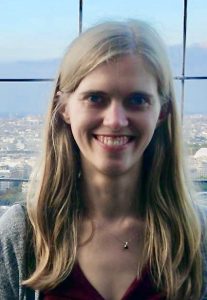 Name:          Alice Butler 
Job Title:      Research Assistant 
Department: School of Applied Social Studies
What attracted you to come to work at RGU?
The position advertised was exactly what I was looking for and I couldn't believe that the job I wanted actually existed!
Describe working at RGU in three words.
Welcoming,
collaborative
(and) exciting.
Tell us something that has surprised you about working at RGU.
I was astonished at how friendly everyone has been.  People have been so welcoming and supportive.
Describe living in North East of Scotland in three words.  (Or if you are not from the local area, what are the biggest differences between where you previously lived and NE Scotland?)
Beautiful,
rugged,
cold!
What are your favourite leisure/non-work activities and how well are they catered for in and around Aberdeen?
Since finishing my PhD, I have rediscovered reading for pleasure and so I'm spending the chilly evenings curled up with a book, so I shall soon be venturing out to the libraries and bookshops of Aberdeen! I'm looking forward to exploring the Cairngorms, and we're planning a day out in Glen Esk soon.
What is your favourite place to go out for a meal in the North East and why? We haven't explored too many places yet but have enjoyed a meal at Café Andaluz and that was lovely!
What would you say to anyone who is contemplating a move to RGU to persuade them it's the right career move?
Go for it! I can honestly say that I have enjoyed every minute of my time at RGU so far; it's such a friendly place and being surrounded by people who care about their work and each other makes such a difference.