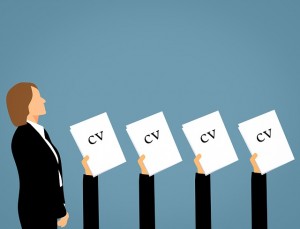 At RGU we advertise several hundred jobs every year.  Many of these are specialist academic or research vacancies, but a lot of them are for the support jobs that keep the university going.  Without these very important people, the university simply could not function and consequently we make sure that we try to attract as wide a range of quality candidates as possible from all over Aberdeen and the North-East (and beyond – especially those who are looking to move to the city).
For example, for cleaners we usually have recruitment open days a couple of times a year. Like all our jobs, cleaners are advertised on https://www.myjobscotland.gov.uk/education/rgu/jobs and also on our Facebook and Twitter accounts (it's always a good idea to keep an eye out there).  In addition, our recent blog, by Steve Chalmers, Cleaning Services Manager, explains much more about the work involved and also the excellent benefits (pension, holidays) that come with it.  We usually have around 15-20 come along to find out more about the job and to be assessed. On average we then appoint 7 new cleaners after each event.
Just to explain further and make it easier for anyone looking for a reliable, secure (so long as you don't do anything daft!) job with good pay, an excellent pension and extensive holidays, there is a simple way to ensure you don't miss out. You don't have to keep looking at myjobscotland or our Facebook page (but it's always worth checking because we have lots of other interesting stuff there that might interest your family and friends if they are job-hunting). For example, in a few weeks we'll publish a blog that explains more about the work done by our janitors, and we've also got some new blogs from other staff explaining about their life and work at RGU.  However, as well as reading these, can I recommend that you just take a few minutes to register on myjobscotland and tell us what kind of jobs you are interested in. Then, when a job that matches what you have told us comes up, the website will alert you so you can apply. Easy!
Julie Skinner, Resourcing & Benefit Specialist
Email: j.skinner@rgu.ac.uk