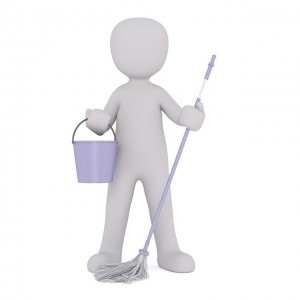 Without our unsung army of cleaners, RGU would quickly grind to a halt. People would turn up in their offices and lecture rooms and find them, how can we put this, a bit less hygienic than they might want…
In other words, we are a vital part of the university's operation and although we begin work before the university officially opens, we are very much part and parcel of everyone's working day. And we're certainly not just the ladies and gents with the hoover and the rubbish bin. Our cleaners use a wide range of equipment and, as keyholders, take the university's security very seriously.
RGU's employs c. 70 cleaners. We begin early – at 6.00 am – and then start to welcome other staff as they arrive from 7.00 am onwards, up till the end of our shift at 9.00 am. We're a friendly bunch of really committed people and take a lot of pride in our work, so it's nice when our colleagues arrive and compliment us on the good job we do for them.
We've running an Open Day on 17th April, where you can come along and meet us. It's quite an informal chat initially, plus some practical tests and assessments, after which we'll get back to you very quickly to let you know how you got on.
As well as being a great job with good money, there are some other excellent benefits, No 1 of which is the fantastic pension scheme, closely followed by 28 days holiday, plus public holidays and c. 10 days off at Christmas/New Year. We also have regular training, including the operation of floor scrubbers, dryers, carpet cleaners and other machinery.
If you'd like to know more, please come along to our Open Day, which is being held between 11.00 am and 2.00 pm in Room H230 in the Health Building – accessed from the first entrance off Garthdee Road.
Also, make sure you have a look at the job description, which is available here.
Steve Chalmers, Cleaning Services Manager, Robert Gordon University
P.S. And don't think that "just because I'm a cleaner" there is no prospect of promotion and career advancement.   I started as a cleaner on a three-hour contract but now have responsibility for our entire team across the campus.