Most people don't think of a university as an organisation with business development objectives: instead it's a place of learning and research, but the fact is that we do indeed employ a number of highly talented individuals whose job it is to represent the university across the globe.  In fact, we have just advertised for a few more of the and if you want to apply here is the link to the jobs! And in the meantime, here's a really interesting interview with our Head of Business Development, who'll tell you a bit more about the role and her experience of life and work at RGU.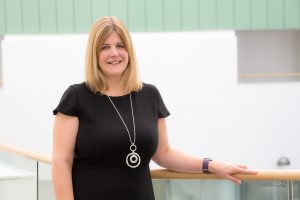 Name: Sarah Hillyear
Job Title: Head of Business Development  
Department: Business and Economic Development
How long have you worked at RGU?
3 ½ years
What attracted you to come to work at RGU?
I initially joined RGU as the Business Development Manager for Oil & Gas.  Having studied at RGU, I was aware of the close relationship that the university had with industry but didn't quite appreciate that this was not only in relation to student placements, sponsorship and research projects and that there was also for the university.  The initial job seemed like an ideal opportunity to combine my passion for customer relationship management and the energy sector with working for an institution that I was proud to say I graduated from a number of years ago.
Describe working at RGU in three words?
Challenging,
Rewarding
Exciting.
Tell us something about your work that might surprise?
I would never have imagined the broad range of people that I engage with day to day – from local SME owners to senior management teams in National Oil Companies to international governments.
What opportunities have you had since starting at RGU?
I have had some fantastic opportunities and experiences while working at RGU which has allowed me to develop my skills and capabilities as well as move forward in my career. For example, within two years of working at RGU, I was promoted to Head of Business Development.  I have also had the privilege to travel to different parts of the world including Colombia, Ghana and Mexico, where I was trusted to speak to senior executives within Governments and Companies about potential commercial opportunities.
Describe living in NE Scotland in three words?
Fun,
Friendly
Beautiful
What are your favourite leisure/non-work activities and how well are they catered for in and around Aberdeen?
When I am not working I enjoy going for long walks – being located on the door step of the Cairngorms National Park means there are plenty of options whether that be up mountains, round some of the beautiful lochs or on a woodland trail.
I also love attending a live event, whether that be a play or musical at His Majesty's Theatre, a live band at the newly refurbished Music Hall or attending one of the many festivals held in Aberdeen throughout the year.
What is your favourite place to go out for a meal in the NE and why?
There are so many nice places to eat and drink in the NE and always new places opening up, it really depends on what you are in the mood for!!  My current favorites are No 10 for a good steak, Da Vinci for Italian and The Tollbooth in Stonehaven for local seafood.
What would you say to anyone who is contemplating a move to RGU and the NE of Scotland but who might be concerned that "it's a long way from civilisation"?
Aberdeen is a little city with a lot to offer.  It is located next to the sea with beautiful beaches and only 15 mins drive away from the countryside.  There is always lots going on but if you fancy a weekend away to a bigger city, Glasgow and Edinburgh are only a few hours' drive or train ride away and major European cities are just a short flight away.