Our local morning paper, the Press and Journal, is not only Scotland's oldest daily, it's also one of the oldest newspapers in the world. First published on 29th December 1747 as the Aberdeen Journal, it became the Aberdeen Press and Journal in 1922 when it joined with the local Free Press newspaper. Known colloquially as the "P&J," the paper is famous for its concentration on local matters. Indeed, its Wikipedia entry suggests it's sometimes called the "Parochial and Journal." Although that's a touch unfair, it's true that there is an emphasis on the local rather than the national/international news that dominates the central belt's quality papers (which may be why the circulation of the P&J is holding up better than theirs!).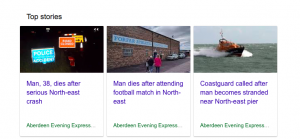 This localism reached its zenith with the claim that when the Titanic went down, the Press and Journal's headline was "North-east man drowns at sea." Alternative versions say it was "Aberdeen man drowns at sea." Whatever actually appeared (of which more below) it's certainly true that over the years both the P&J and its sister paper, the Evening Express, regularly carried headlines along the lines of "North-east man (does whatever, usually involving accidents or fatalities)." You can Google this and, as our screen-grab shows, you'll find that, in a more or less similar form, it's still the case today.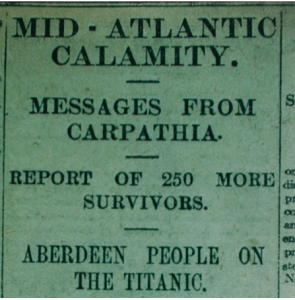 In the  1970s, an academic produced a humorous paper on the concept of the "North-east man" and his regular appearance in headlines in the local press, much of which centred on the assumption that the Titanic story was true. Unfortunately, as the P&J has consistently pointed out, it's simply untrue, and they have been at great pains to provide newspaper cuttings that make that clear. There was, admittedly, a sub-heading in an edition a few days after the story broke, saying "Aberdeen People on the Titanic," but that was the only reference to people from north-east Scotland. Like every other news organisation, the paper was trying to digest the enormity of the disaster and didn't really focus especially on the local people involved. So this time we shouldn't let the story get in the way of the facts!
Julie Skinner, Resourcing & Benefit Specialist
Email: j.skinner@rgu.ac.uk