In 1880, a Miss Elizabeth Duthie gifted 44 acres of land to the city of Aberdeen. Three years later, it was opened as a superbly designed park for the enjoyment of the citizens and its wide green spaces, flowerbeds and trees make it one of the best public parks in Scotland, if not the UK.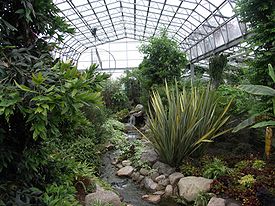 We know (because they tell us) that new staff at RGU who have moved to Aberdeen are very impressed by just how high the quality of life in the city is, and how much they enjoy a walk around Duthie Park (not Duthie's – that was just an excuse for a bad pun in our title) and, especially, the David Welch Winter Gardens contained within its boundary (of which more below). Those of them who are cricket fans are often amazed to see several matches being played in the park at the same time (there is plenty of room) during the summer months. As we have noted in our blog before, cricket is a much more popular game in Scotland than you might think!
Those with families can enjoy every facet of the park. The play areas are simply brilliant places for your kids to let off steam and the play area to the south of the park (off Riverside Drive) was, in 2013, voted Scotland's best play space. There is a superb bandstand which is still in use and the recent restoration of most of the park's original Victorian features make it a very pleasant place to spend a weekend afternoon. The restoration was paid for by the Heritage Lottery Fund's Parks for People programme and this allowed the city authorities to introduce Park Rangers, community gardens and – to the delight of small (and big!) children – the reintroduction of paddle boats to the upper pond.
When the sun's not shining (and also when it is), the Winter Gardens are a wonderful place to spend a hour or so. As well as being home to one of the largest collections of cacti in the country (second only to the Eden Project in Cornwall), it has many exotic plants which are housed in spacious, large glasshouses, with varying degrees of temperature (the one pictured here is the temperate house). Don't be surprised to see a wedding party there because it's a very popular place to get your wedding photos taken!
I hope that if you do decide to come and work with us here at RGU and live in Aberdeen, you'll take the earliest possible opportunity to visit Duthie Park and the Winter Gardens. They really are a fabulous asset to the city and I can't recommend them highly enough.


Bob Gordon, RGU Recruitment