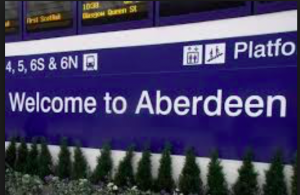 For many people, especially those who have never been here, Aberdeen seems far away. Yet although it's certainly some distance from, say, London, it's actually a lot easier to get to – and get around – than many places in the UK. And if you like travelling – and let's face it, lots of us do – then it's one of the best places in the country!
For this, we have (mainly) to thank the oil industry. Given its importance to the UK economy, it was essential that communications with the north-east of Scotland were massively improved once oil was discovered. Moreover, if you're used to the M25 car park then you'll be pleasantly surprised by how traffic (usually!) keeps moving fairly well here. It's a simple equation: fewer people, fewer cars, fewer jams! That said, we know that unless you currently live in Scotland, it is a long way to drive. But so is London if you live on the western coast of the Lake District. As a wise man once said, it all depends from where you start! And perhaps the best place to start is a railway station?
Aberdeen is well served by the railways, with regular trains from all major cities, usually involving no more than one change and often direct from London, taking seven hours to travel the 530 or so miles from the UK's capital city. Aberdeen is also one terminus of the longest train journey possible in Britain – the 13 hour, 20 minute haul from Penzance in Cornwall to the Granite City. Connections to this train from across the UK are relatively easy to make, so if you are coming here for an interview or indeed to take up a new post, then the train may well be the best (and least stressful) way. There is the added advantage that along much of its length the east coast line from London passes alongside some stunning coastal scenery.
If you want to get here in a hurry, then again the oil industry's impact is not hard to discern. Aberdeen airport is a major regional airport – the fifth busiest in the UK (and famously the busiest civilian heliport in the world, thanks to its North Sea traffic). The helicopters make up c. 40% of the traffic, with fixed wing aircraft making up the remaining 60%. In 2014, there were 3.76 million fixed wing passengers and c. 0.5 million helicopter passengers using the airport. It's also worth reminding people that not everyone who comes to study or work here arrives from the south. Aberdeen has daily air connections to all the northern Scottish Islands – and, of course, to most major UK cities.
Let's also not forget the fact that Aberdeen (again courtesy of the oil industry) is a major sea-port, with daily links to the northern isles and further afield. In fact, for some people this one of the major attractions of Aberdeen as it is now one of the very few places in the UK where you can see a big harbour full of ships coming and going at all hours of the day and night. These are, of course, not just oil supply vessels but also fishing boats, and when you do come to work here you must, even if only once, take a very early (4.00 am – 7.30 am) morning trip to the fish market to see the catch landed and sold.
However, if the thought of making a longish journey for a job interview (or to move to live and work here) is still putting you off, please bear in mind that RGU has students from, literally, all over the world and from almost every part of the UK. They are not put off getting here by the distances involved – it's what they find when they arrive that makes them make the trip! And, after all, that's what you're doing when you come for an interview, or better still, when you come for a job at RGU!