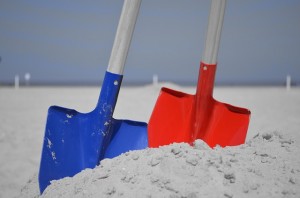 Everyone knows that Aberdeen in the UK's oil capital, with the bustling harbour being a vital part of the local and national economy, yet it never ceases to amaze us how many of those who come to work at RGU from further afield don't know that we also have a splendid beach and esplanade to enjoy (almost) all year round.
And when I say splendid, I mean really splendid. The esplanade is some two and a half miles long, extending from the village of Footdee ("Fittie" in the local vernacular) to the sandy dunes and nature reserve at the mouth of the river Don. For runners, it's a superb, flat route with the added advantage of spectacular views!
The beach itself is of generally high quality sand, with groynes to help prevent it being eroded by the sea, and in good weather it's often thronged with locals. There's a row of traditional seaside shops, cafes and restaurants, selling ice cream and souvenirs, as well as the Beach Leisure Centre (with an Ice Arena, Swimming Pool and Sports Hall), the famous Cadona's Amusement Park and equally well-established Beach Ballroom, where generations of Aberdonians have danced and met their future spouses. Close by, there is the Beach Boulevard with the Beach Retail Park and a Cineworld multiscreen complex.
Behind the beach and the esplanade is Queens Links – a vast, grassy area, including a public golf course (the Kings' Links). Just behind Queens Links is Pittodrie Stadium, home of Aberdeen FC (although the club are, hopefully, going to be moving to a state of the art stadium on the outskirts of the city in the near future).
"The Beach" is a very popular area with the aforementioned runners, those just seeking half an hour's break at lunchtime (it's usually fairly easy to find a parking space if you fancy a quick ice cream!) and all those shoppers, swimmers and gym enthusiasts. Imagine you work in almost any other major city in the UK: you have lots of great leisure and recreational facilities, but usually not a great beach attached. It's yet another example of why Aberdeen is such a good place to come to live and work – especially if you come to work at RGU!
Julie Skinner, Resourcing & Benefit Specialist
Email: j.skinner@rgu.ac.uk