If you look at Aberdeen's coat of arms (as shown here), you'll see, amongst other things, three castles. These represent three key sites in the medieval city of Aberdeen – Aberdeen Castle itself, a church on St Catherine's Hill and the city gate on Port Hill.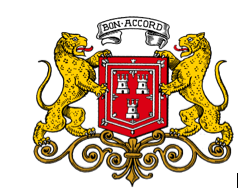 The illustration of the three towers dates from around the time of Robert the Bruce, whose Great Charter of 1319 was instrumental in the development of the city. King Robert I of Scotland was an important figure in the history of Aberdeen and it's claimed that the city's motto of Bon Accord was a password used by him during the Scottish Wars of Independence.
Bon Accord, as we noted in our blog on the football team of the same name, means "good agreement" in French and the words are commonly seen throughout the city, not least in the Bon Accord shopping mall and also in the names of local businesses.
The leopards supporting the coat of arms were apparently, in some earlier incarnations, lions, and they too are commonly seen in the city, not least on Union Bridge, where small statues of leopards are positioned on the top of the railing posts. You might think that all this heraldry stuff is a bit old hat, but there is not doubt that it permeates even our modern world.
To demonstrate this, while RGU is most commonly represented by our modern logo (as seen on this blog page), we too have a coat of arms (see below). Not only that, but as part of the continuum of history, as you can see our coat of arms features one of the three castles from the Aberdeen city coat of arms. The other major element is the three boars on a blue background, which come in turn from the coat of arms of the Gordon family.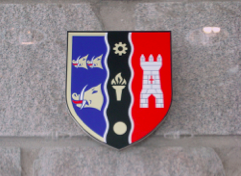 In between the boars and the castle there are three heraldic symbols in gold. The mechanical cog represents technology; the flaming torch learning and the gold coin commerce. Technology, learning and commerce – all in all, a pretty fair representation of our university.
Julie Skinner, Resourcing & Benefit Specialist
Email: j.skinner@rgu.ac.uk