When we asked around our colleagues at RGU for examples of the sports they were interested in, we knew we'd get a lot of football, a bit of rugby, athletics, and all the 'standard' things that people do to keep fit and enjoy themselves.
While we did get all these things, we also got some other sports that perhaps don't hit the headlines as much as they should. Equestrianism, for example. Did you know it is worth an estimated, indeed staggering, £4.3 billion to the UK economy in 2015, up from £3.8 billion in 2011? It's a very popular sport and the North-East of Scotland is one of the most successful and thriving areas in the country for horses and their riders.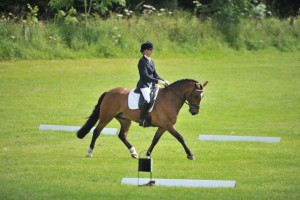 Professor Elizabeth Gammie is Head of the Department of Accounting and Finance at RGU. She's a serious dressage competitor, at a very high level, whose daughter, also a keen horsewoman, is currently on a sports scholarship at RGU.
Elizabeth's horse is called Champagne Bubbles, pictured here winning the Riding Club Scottish final in 2014. After that, they went to Lincoln and won the Riding Club National Championship. More recently, they've been down to Stoneleigh in Warwickshire to compete against the top professional riders in the UK in the British Dressage National Championships, where they were the highest placed amateur rider. It's a highly competitive sport, requiring a huge investment in time – not least in driving a slow, horse-laden lorry to events all over the UK.
It may seem that this is a world far removed from the academic life of RGU's Garthdee campus, but, as Professor Gammie points out, there are similarities. "Both environments", she says, "require hard work, dedication and a significant amount of planning. There is also an element of the uncontrollable in both teaching/research and dressage and it's how you manage these situations that decides whether you are ultimately successful or not. However, I get a huge amount of enjoyment from both and they are, in many ways, complementary to each other".
As well as Elizabeth competing at this high standard in dressage, the university also has an active riding club for students and the University team competes against other universities in a combination of dressage and showjumping.
We value the diversity of opportunity available at RGU, whether in the academic field or the sporting arena. If you do come to work with us here in Aberdeen, then, whatever your sporting inclinations, we're sure there will be someone who shares them.
Thanks to Professor Elizabeth Gammie for her help with this article.