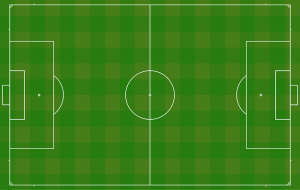 The football season is over. Now we're obviously biased at RGU – we regularly tell you that Aberdeen is a fabulous place to come to live and work, especially when you come to work with us. We also tell you that it's a place rich in history and well known for its great football team, Aberdeen FC, one of the most successful clubs in Scotland. However, arguably, there was one other team from the Granite City that is equally famous, albeit not for reasons that they might have wanted.
Many people (OK, those who are into football) know that the record score* in any senior match is the 36-0 drubbing which was inflicted by Arbroath on Bon Accord in the Scottish Cup on the 12th September 1885. Bon Accord had only been founded the year before, while, in contrast, Arbroath were a well-established and successful club (having been founded in 1878). The Aberdeen side were said to be so ill-prepared that they turned up without any kit.
It was no contest. The Arbroath goalkeeper was reported as not having touched the ball in the entire match and at one time sheltered under a spectator's umbrella while it was raining. At half time, the Angus team, were 15 goals up and by the end the score could actually have been much worse for Bon Accord as there were apparently between five and seven (accounts vary) more 'goals' that were disallowed.
It wasn't a good time for football clubs from Aberdeen. At the same day that Bon Accord went down 36-0, Aberdeen Rovers lost 35-0 to Dundee Harp. In fact, that game might have been the one to claim the record because the referee recorded 37 goals for the Dundee team, but because the Harp Secretary only noted 35 that was the final result sent to the Scottish Football Association.
It would be a few years before Aberdeen FC were formed and began to redress the reputation of football in the North-East. However, there is a certain perverse pride to be had from being a record-holder, even if it's not a record most people would seek.
Bon Accord means "Good Agreement". It's been the motto of the city of Aberdeen for centuries (more of which in our next blog), yet there is no doubt that whoever agreed to enter the team for the Scottish Cup might have been better advised to wait until they had had a bit more practice.
However, if you are a football fan, interested in moving to work with RGU in Aberdeen and keen to see a high level of the game, then we can wholeheartedly recommend that you follow Aberdeen FC, currently the second best team in Scotland in all the major competitions. We can promise you a high standard of entertainment and no chance of being on the receiving end of a 36-0 drubbing from Arbroath (or anyone else)!
Julie Skinner, Resourcing & Benefit Specialist
Email: j.skinner@rgu.ac.uk
* There is another claim to the record, an unlikely result of149-0, but although this is (for some unaccountable reason) recognised by the Guinness Book of Records, it was a thrown game, with one side deliberately kicking the ball into their own goal after each kick-off.