Think of Scotland (even if you live here just now) and think of Scotland's weather. If you live south of the border or elsewhere, you probably think, "cold", "wet", "snow", "rain (the latter varying from 'stair-rods' to, as we say in Aberdeen, 'dingin' doon'). Even if you live in Scotland you may think along similar lines.
You would be only partially right. Aberdeen is regularly named as the sunniest city in the UK (not just Scotland) and the driest region in Scotland is… the north-east. We're not saying it's warm all the time, but it is, like much of Scotland's east coast, dry and bright rather than cloudy and wet (that's the west coast!).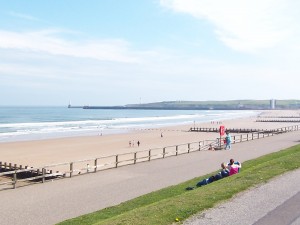 You might also think that it's a long way to go from Aberdeen for a beach holiday in the sun. Well, let us also tell you that Aberdeen is one of the very few cities in the UK to have a (very big) beach. Not Marbella, but very pleasant on a hot summer's day (which you now know we have as well) and you'll not have to fly in a plane to get there.
Along with a beach you expect funfairs. We won't disappoint you. Codona's Amusement Park at the beach is one of Scotland's biggest.
All that warm weather is great for gardeners. In fact, Aberdeen has been banned from entering the national 'Britain in Bloom' competition in the past. The city has 16 parks and takes immense pride in its floral displays. Duthie Park, which attracts hundreds of thousands of visitors every year, has splendid 'Winter Gardens' where you can see all sorts of tropical and desert plants as well as many of Scotland's finest botanical specimens.
Continuing on the weather theme, one of the big disappointments for many (youngsters in particular) is not seeing much snow these days. Aberdeen, being dryish in the winter, is far more likely to have snow than many other areas in the UK and if you want to guarantee some then the Highlands are not far away!
Given Scotland's renown as the home of golf, you won't be surprised to know there lots of golf clubs in Aberdeenshire, but did you know that you could actually play a different one every week for a year?
Other than haggis, what sort of wildlife would you expect to see in Scotland? Well, when did you last see a dolphin? Aberdeen Harbour is a favourite spot for them and, if you want to be almost certain to see one then travel up to the Moray Firth and the north Grampian/Highland coast.
Scots have an undeserved reputation for stinginess and Aberdeen was regarded as the meanest of the lot. It's totally undeserved – for many years the student charities' campaign here was the biggest in Europe. On the other hand, more medieval coin hoards have been found here than anywhere else in Britain so perhaps the reputation was deserved in the past – but it certainly isn't nowadays.
In case you think that if you leave the shopping nirvana that is London you'll be deprived of luxury items and shops in which to buy them, remember that Aberdeen is the second richest city in the UK and has fantastic shopping, including Union Square, which is a superb shopping and dining destination and one of largest city centre shopping developments in the UK.
(to be continued from time to time – there is a lot more to tell you about Aberdeen!)