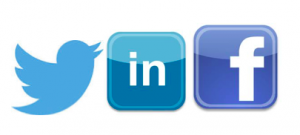 Social media have, as we all know, had a huge impact on virtually everyone's lives and they are recognised as a great way for an organisation or company to help promote its vacancies and engage with potential candidates.
At RGU we've been working on our social media presence for recruitment for the last year. In that time, we've grown our Twitter following sixteen-fold and our Facebook following has more than doubled.
We firmly believe that there is no point just pushing jobs out on social media and hoping someone will respond. Instead, we have engaged with a wide array of local businesses, of relevance to anyone who lives and works in Aberdeen and the north-east of Scotland – or indeed to anyone who is considering coming to work here. We regularly highlight local events, films, music and other arts and also engage with major shopping centres and sports organisations. We are well aware that it's the diversity of experience that makes for a satisfying job and a pleasant place to live. Consequently, we attempt to showcase all that is best in Aberdeen and to demonstrate just why this is an area that is regularly accorded the status of being one of the best in the UK in which to live.
We do, of course, also promote our jobs via Twitter and Facebook. We have hundreds of followers in academia across the world as well as many hundreds of local people who are seeking the stability and rewards that are rightly associated with a career at RGU. Can we suggest that if you are thinking of changing jobs in the next year you follow/like us? Then you'll be part of our Twitter/Facebook audience and who knows, the next job that pops up in your stream/timeline might be just the one you were waiting for!
Julie Skinner, MCIPD
Resourcing & Benefit Specialist
Email: j.skinner@rgu.ac.uk