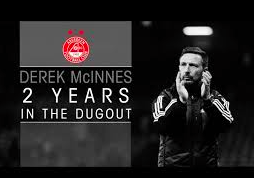 Like most of the world, we are quite keen on football in the north-east of Scotland. Fortunately, our local, professional team, Aberdeen FC, is pretty good: at time of writing they are commonly reckoned to be the second best team in Scotland. The standard of football here, whilst not on a par with the millionaires in the Premier League in England, is very high and the matches are usually entertaining. Aberdeen are nicknamed the "Dons". There are two theories behind this, first that some of the early sides featured a number of (university) teachers or 'Dons'; and secondly, an alternative view is that 'C'mon the Aberdonians' was shortened to 'C'mon the Donians' and then further reduced to "C'mon the Dons".
Aberdeen FC has a number of claims to fame (not least being one of the few British teams – and the last Scottish team – to have won a major European trophy). The club's ground, Pittodrie Stadium, was built on the site of a former dunghill for the city's police horses (leading to many a ribald cry from disgruntled fans). In addition, the ground is famous the world over as being the place where the 'dug-out' was invented, to give managers and coaches – and now players – somewhere to sit close to the action. This was invented in the 1920s by coach Donald Colman. Aberdeen FC have never been relegated from the top flight of Scottish football. Crowds are large and prices are far less than the English Premiership charges!
If you'd prefer to play football rather than watch, there are six Divisions in the Aberdeenshire Amateur Football Association, as well as the Aberdeen and District Juvenile Football Association for any budding teenagers who want a serious game of football. Or, if you're simply looking for a kick about, you can always hire one of the city's venues (e.g. Banks O'Dee) for a six-a-side match with your mates.
Women's football too is well catered for, with the Aberdeen FC Ladies and Girls club thriving and playing their home matches at Kaimhill Playfields Garthdee Road Aberdeen.
So, if you are a football fanatic, of either sex, and you're coming to Aberdeen for a job with RGU (or anyone else), then bring your boots!
Jenny Connon, HR Co-ordinator (and sports enthusiast), RGU